Many high security locations have around the clock need for the on site presence of a manned security guardhouse, also known as guard house, guard booth, security booth or security building. Sensitive locations, such as gated communities, homes of elected officials and government buildings require their guard house or gate house to be staffed 24/7. It is essential to have a restroom with integrated sanitary facilities in your guard booth, especially during a pandemic. Par-Kut guard houses can be designed to include built-in restrooms for the security personnel only, or security offices and visitors. Restrooms for Par-Kut guardhouses are typically ADA compliant to meet the current building and plumbing codes.
Par-Kut preassembled guard booth restrooms have white china fixtures for the lavatory and water closet and the security booths are designed to be set over the top of pre-set pipes for water and sewer. Owner's mechanical contractor installs exposed piping within the restroom area to plumb the unit. Holes are pre-cut in the floor of the portable guardhouse or security booth to allow the site mechanical contractor to pre-install the utility pipes before the preassembled modular security building is delivered to the site. When running piping to the guardhouse location is cost prohibitive due to distance, Par-Kut can provide an electric incinerating toilet, a composting toilet or even a chemical type of toilet. Other locations are able to run a water supply to the guardhouse, but instead of sewer use a septic field.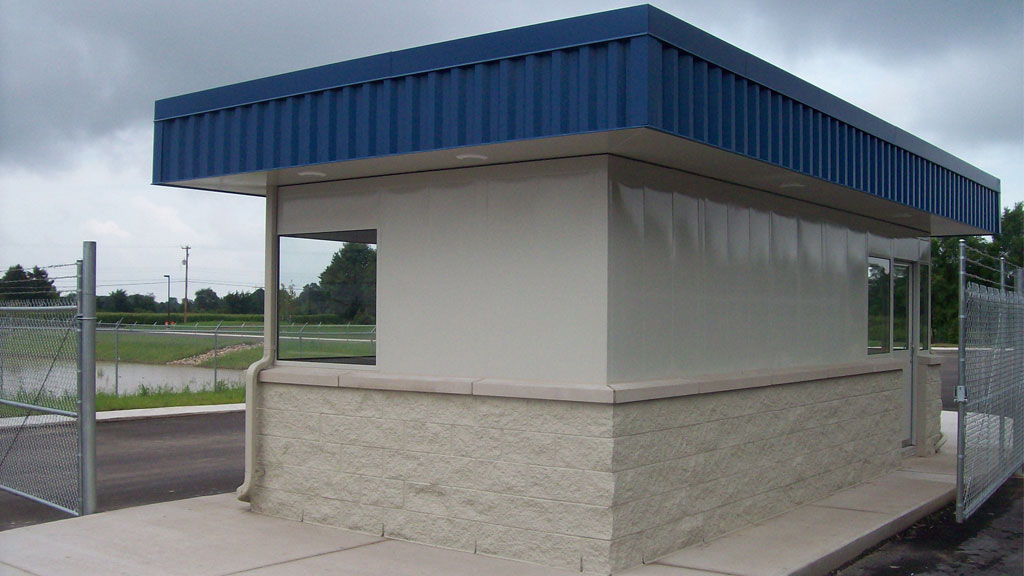 Besides the insulated steel partition walls and lockable door, Par-Kut guard booth restroom amenities include a mirror, a coat hook, the faucet, a toilet paper holder, and a paper towel dispenser. Additionally, a water heater, an exhaust fan, overhead light and a GFI outlet are provided within the restroom in a Par-Kut guard house. Moreover, Par-Kut can add a touchless automatic sanitizer dispenser and an automatic hand dryer hot air dispenser on the wall inside of your guard house.
For more information about a Par-Kut guard house with built-in restroom, please visit www.guard-booth.net/contact, or call 1-800-394-6599.